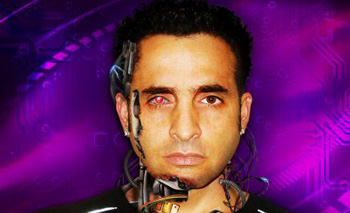 Debonaire Bio
In 1988, Dj Debonaire released his very first E.P. called "Name That Toon" on Showroom Rec. About twenty years later, with similar enthusiasm and inspiration, the Miami Bass pioneer is making a remarkable debut on famous indie Fdb Recordings.
And as the french structure has just turned eight, fresh "Watch Me Now E.P." 12 inch appears as a double celebration: first and foremost a wink to Claudio Barrella's impressive career and secondly a wonderful present at the label birthday.
Following AE35's mighty "Electric Sunrise" outing published in 2007, this collectable picture disc available in extreme limited edition (design by Fdb's honcho Vstee) displays three slammin' slaughters in Debonaire's typical signature and unique vision of dance music we're familiar to from the maestro since the early days of electro bass.
Having witnessed the evolution of the Miami Bass sound (and mostly set its basis up along with Dynamix II or Maggotron just to name), from its funk beginnings to its current robotical trends, the legendary US producer has arrived to a point where he has no rivals in machines programming and mixing techniques, feeding exactly what your insatiable audio appetite needs.
And judging by the quality and the way each song rocks, this piece of colourful plastic is guarantee to encounter at least the same planetary success as the previous Fdb delivery. Opening the A side with a rough beat and a flavoured vocoder chanting "Watch Me Now, Feel The Groove (…not sure of the rest…), Gonna Make You Move", new school longplayer that gave his name to the record sums up by itself two decades of music manipulations from the Florida located Jedi knight.
Writing in over seven minuts another standard in Debonaire's discography, astounding "Watch Me Now" is nothing short of incredible, melting the very best sounds and samples borrowed from the past to an untouchable up to date twist that will leave you out of breath.
As the first synthetic notes of the main theme are falling into your ears, you'll instantly realize that something special is happening on the dancefloor, putting a large smile on your face while, automatically taking control of your soul and instantly making your body shake on an irresistible breakdance contest. ACE! Genius mash up of low frequencies, 808 flights, retro overtones going way back, groovy melodies and droid voices, "Beat Technician" mayhem on the flip keeps the pressure, multiplying warm touches thanks to sexy female lyrics and whispers (vocals by Empress Zurl).
True tribute to the whole nation of creators, describing with vocoded words the process of a hit construction, the song definitively mutates into a visionary cult classic when at middle of the cut insane scratches increase the temperature. Hot! Climax of the E.P., ending the 12'' harder than it began, subsonic jam "Commence Revenge" serves up an absolute killer not advisable to faint-hearted freaks nor fragile speakers. Displaying a whole weaponry of lethal tones, from harsh staccatos to old school melodies passing through energized pads, reinforced beats, dark Sci Fi noises and top nocht vocoder action, this merciless borganizm full of vintage references ("Breakers Revenge" timeless cut) propels the "Watch Me Now E.P." directly into a new era ruled by T4. Debonaire at its best! Will you resist to Fdb's ultimate reference?