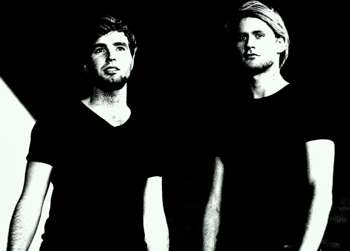 Hackler & Kuch Bio
Known in the Amsterdam underground techno scene for their loud, dark, deep and merciless productions and sets, Hackler & Kuch are to be reckoned as one of the more daring Dutch-based Techno producers.
Hackler & Kuch, real names Bo Andrée and Ernst vd Berg, started their career in 2009 as Dj's.
They played small minimal parties in and around the city of Leiden.
In 2010 they started their 'Hackler & Kuch' project in which they moved their focus towards more deeper and peaktime focused techno.
By the end of 2010 they had their first works ready and In 2011 they released on platforms such as Ireland/Germany based Gobsmacked Records and UK based Transmissions.
Their first full album 'Beethoven was deaf too!' was released at US based Machine Box Records.
After that they quickly made their way to other labels such as Rome's The-Zone Records, where they released their well received Duck & Cover EP, which included remixes from Austria's Niereich, Italy's Logotech and Germany based Cortechs.
Furthermore they released their 'Locomotiv' remix for Distn at Unofficial Records, which was charted by Sasha Carassi in his June 2011 Beatport Chart.
More recently they released their Trans Lunar Injection EP with co-producer and friend Niereich at Berlin based Nachtstrom Schallplatten.
Including remixes from Japan's grande Ryuji Takeuchi, TK-Records owner Torsten Kanzler, Michael Schwarz and Brian Burger. At the moment, end 2011, Hackler & Kuch have their works released at Nachtstrom Schallplatten, TK Records, The-Zone, Gobsmacked, Transmissions, Machine Box, UnofficialRecords and Hello Japan.
More works are scheduled at Construct Rythm, owned by Germany's legend Andreas Kraemer, Rewashed LTD, Mechno, Nachtstrom Schalplatten, Machine box and more.
A full EP with co-producer and Amsterdam based friend Jeff Rushin will appear at Tanz Factory by the end of 2011. Additionally they will continue to collaborate with Niereich and more collab tracks and remixes with him can be expected throughout 2012.